Transportation Geography of the United States 2021 - front
Figure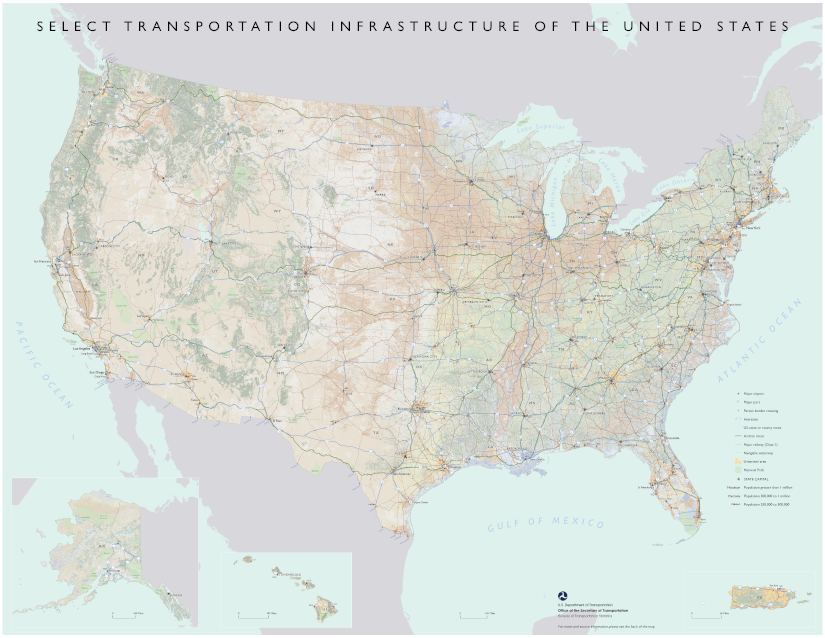 Description:
The front side of our 2-sided print map, Transportation Geography of the U.S. 2021, showing:
Major airports;
Major marine ports;
Navigable waterways;
Person border crossings;
Interstate highways;
US, State, and County highways; and
Rail lines.
View the full-size image (60MB).
Source:
U.S. Department of Transportation, Bureau of Transportation Statistics, National Transportation Atlas Database, 2020. Multi-Resolution Land Characteristics Consortium, National Land Cover Database (NLCD), 2016. Major airports include only airports with 1 million enplanements or more in 2019. Major ports include only ports with a total tonnage of 10 million or more in 2016. Border crossings are shown for all passenger ports of entry with a road border crossing. Non-capital cities with a population of 250,000 or more are shown, based on 2017 Census Bureau population estimates.
Related Datasets: