COVID-19 Crushes Bikeshare and E-scooter Ridership, Closes Systems Permanently in Some Cities
Wednesday, March 24, 2021
When the COVID-19 pandemic dramatically reduced local travel in March 2020, ridership on America's bikeshare and e-scooter systems fell sharply. Many systems suspended operations. Some systems closed permanently. One year later, year-over-year ridership numbers on the remaining systems are markedly low. See large system numbers through February 2021 below.
Systems closed permanently or suspended operations.
By the end of August 2020, 35 bikeshare (docked or dockless) and e-scooter systems had closed permanently (9%), and 156 (42%) had suspended operations. By summer's end, 84 of the suspended systems had resumed operations, but 72 remained suspended. Of the 170 U.S. cities served by bikeshare or e-scooter systems, 46 were left without service. Many of these communities lost service when a single provider ended its bikeshare services.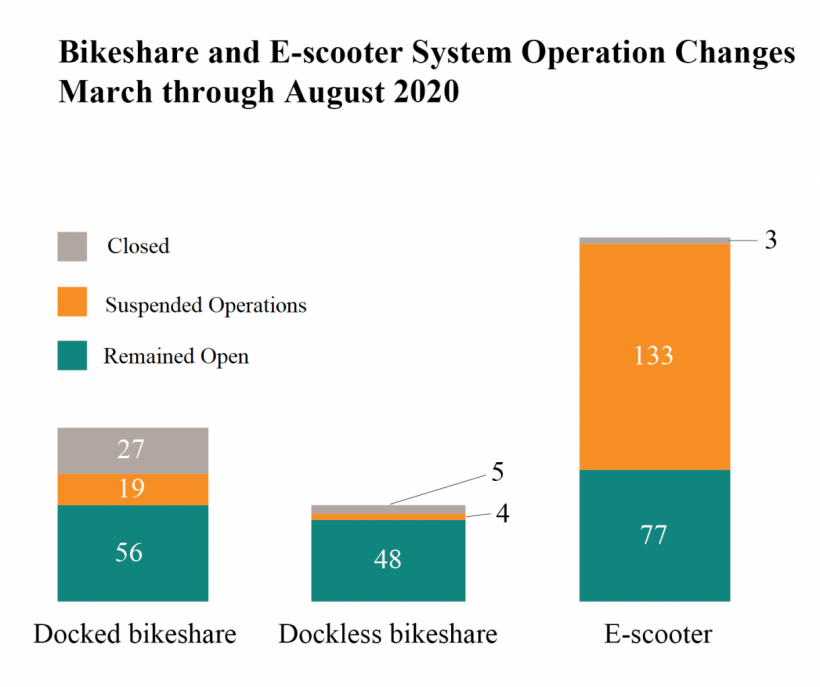 NOTE: The data for the chart above is confined to cities that operate/operated service not limited to a specific college or university population.
Trips by docked bikeshare fell and have stayed low through February 2021.
After rising in January and February 2020 from 2019 levels, ridership on six of the nation's largest docked bikeshare systems declined by 45% from March through May 2020 from the same days of the week in 2019. The largest year-over-year decline (65%) occurred in April 2020 with stay-at-home orders in effect. 
Ridership began increasing again in May 2020 and rose above 2019 levels in November. However, since the small year-over-year growth in November, ridership receded again, and in February 2021, trips recorded for these six systems was 49% below the February 2020 level.
NOTE: The six systems included above are Citi Bike New York; Capital Bikeshare (Washington DC); Divvy (Chicago, IL); Bay Wheels (San Francisco, CA); Blue Bikes (Boston, MA), and Citi Bike New Jersey. 
Winter of 2020-2021 a setback for docked bikeshare ridership.
As shown below, in February 2021, of the six systems, docked bikeshare ridership for Citi Bike New Jersey was down the most (78%) from February 2020. That is the system's sharpest year-over-year decline since the pandemic began. Year-over-year ridership for Citi Bike New York was down the least (43%) in February 2021. For both systems, February was a big disappointment from January, when the year-over-year declines were much smaller-–with Citi Bike New York down only 11% and Citi Bike New Jersey down just 12% in January. Bay Wheels in San Francisco was the only system of these six to show a relative improvement from January 2021 to February 2021 but was still down 46% from February 2020. 
To explore the latest data, see BTS' interactive docked bikeshare ridership application. This application shows, by area served, the total number of trips taken per month starting in January 2020 compared to the same month in the previous year. The map includes a graph showing the total number of trips in a month and, if you select a specific system, a second graph showing the total number of trips by day for that system. One can zoom the map to the locations of docking stations at the street level. The map features the largest bikeshare systems, which accounted for roughly 80% of all docked bikeshare trips in 2018. BTS updates the application monthly.