Earth Day 2021 Arrives as U.S. Electric Vehicle Sales Continue to Grow
Wednesday, April 21, 2021
To celebrate Earth Day 2021, BTS has highlighted recent trends in Electric Vehicle (EV) adoption by American drivers. According to the Environmental Protection Agency, transportation activity emits more greenhouse gases in the U.S (29% of total emissions in 2019) than any other sector of our economy. With available technologies like electric-drive vehicles, we can reduce the climate-changing emissions produced by moving goods and people. 

Source: Environmental Protection Agency
This article discusses three types of EV technology:
Hybrid Vehicles (HEVs) use gasoline and electric drive, with the electric drive powered by a battery recharged through regenerative braking. 
Battery Electric Vehicles (BEVs) are the typical all-electric vehicles that must be plugged in to recharge fully. 
Plug-In Hybrid-Electric Vehicles (PHEVs) are vehicles that use gas or electric drive and whose batteries are recharged fully through plug-in technology or partially through regenerative braking. 
Counts of Plug-In Electric Vehicle (PEV) sales include both BEV and PHEV sales.
Electric vehicle sales in U.S. reach record high monthly volume in March 2021.
In March of this year, according to data from the Argonne National Laboratory, Americans purchased 75,959 Hybrid-Electric Vehicles (HEVs), a new record-high. They also purchased 33,370 Battery Electric Vehicles (BEVs) and 12,687 Plug-In Hybrid-Electric Vehicles (PHEVs), both of which are the most monthly sales in those categories since December 2018. Combined, the 122,016 electric-drive vehicles sold in March mark a new overall record high in EV sales.

Source: BTS analysis of data from Argonne National Laboratory
EV market share of all light duty vehicle sales also hits record high. 
The record high combined sales of electric-drive vehicles discussed above led to a 7.6% EV market share of all light duty vehicles sold during the month, itself a record-high. Hybrids (HEVs) earned a 4.8% market share, and plug-in electric vehicles (PEVs) accounted for a 2.9% market share, which are both record highs for those electric-drive vehicle segments.

Source: Argonne National Laboratory
2021 EV activity continues recent annual trend.
The record 761,000 electric vehicles sold in 2020 represented the fifth consecutive year of growth in EV sales. With sales for the first quarter of 2021 already approaching 300,000, 2021 sales are on a path that could surpass 2020 sales.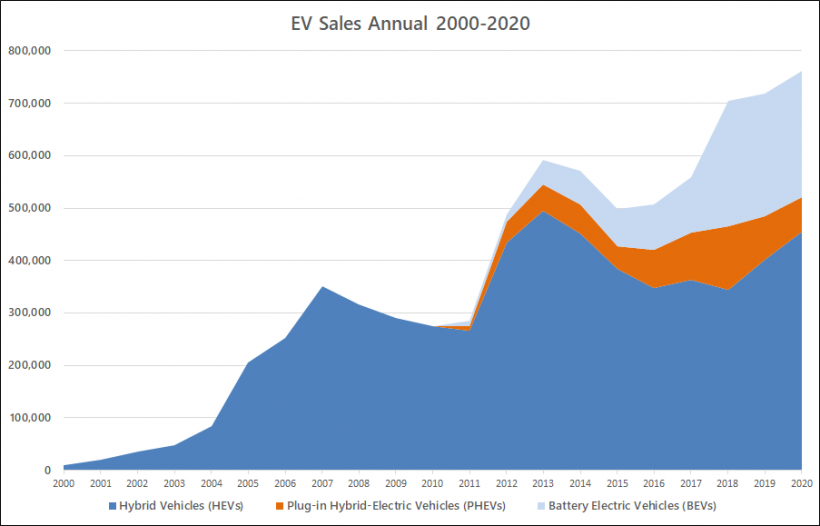 Source: BTS analysis of data from Argonne National Laboratory
Public charging stations also increasing across U.S., but some states lag.
As the number of PEVs sold increases, the need for PEV charging infrastructure also increases. A comparison of the side-by-side maps below from the National Transportation Atlas Database shows the number of public charging stations growing from 7,340 in 2014 to 20,426 in 2019 and to 25,313 by the end of 2020.


Source: BTS National Transportation Atlas Database (NTAD)
As of April 2021, the differences in access to public charging stations between the 50 states (and the District of Columbia) is considerable. California leads the nation with 12,839 public charging stations, over 10,000 more stations than the next state, New York, with 2,427. Alaska has 37 public charging stations available.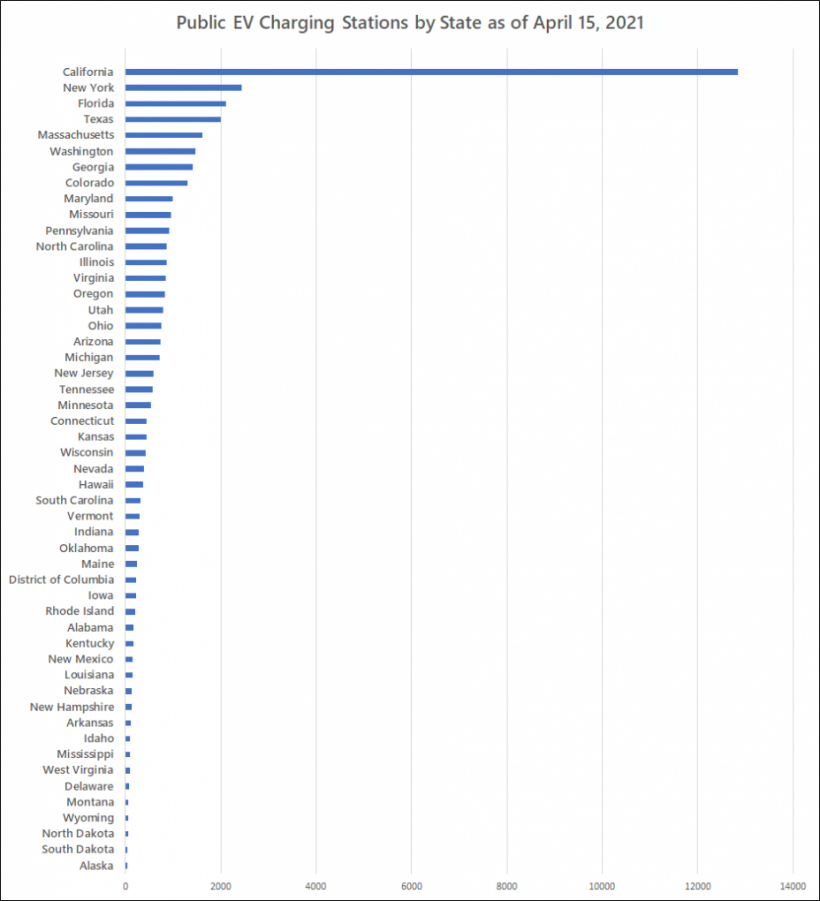 Source: BTS analysis of data from U.S. Dept. of Energy