The Longer Route To School
Tuesday, January 12, 2021
More than half of pre-high school students in the United States—about 20 million children in 2016 aged 5-14—travel over 2 miles to school. At these distances, students are nearly evenly split between taking a school bus and being driven in a private vehicle. For many students, however, additional factors often make the school bus their only practical means of transportation, notably household income and vehicle ownership:
20 percent of low-income families (at or below the poverty line, defined as $25,000 for a family of four) own no vehicles and the majority (70 percent) of children from these families take a school bus to school
On the other hand, 99 percent of non-low-income families own at least one vehicle and the majority (over 50 percent) of children from these families take a private vehicle to school
What about the 80 percent of low-income families who do own at least one vehicle? For these families, vehicle ownership does not necessarily mean vehicle availability: in contrast to their non-low-income peers, the majority of children (60 percent) from low-income, vehicle-owning households continue to take the school bus instead of a private vehicle. The importance of school buses in providing school accessibility and educational opportunity for pre-high school students therefore increases as income decreases and so does the feasibility of being personally driven to school.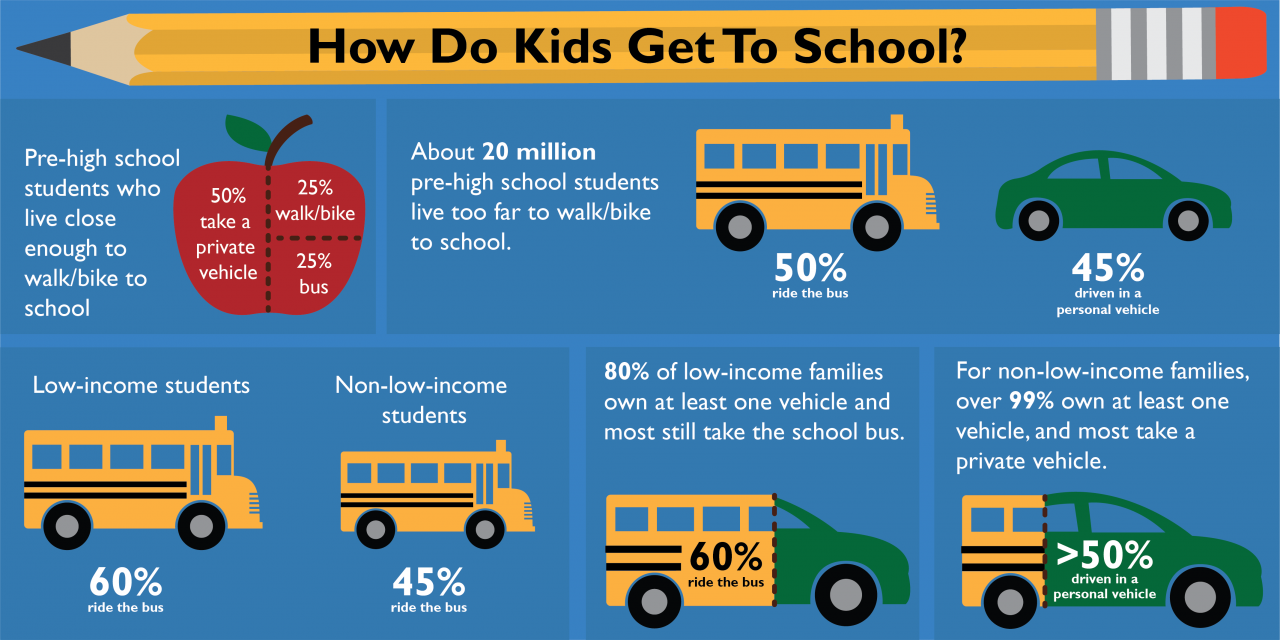 ​​​​​​
SOURCE: U.S. Department of Transportation, Federal Highway Administration. 2017 National Household Travel Survey (4/23/2019). Available at: https://nhts.ornl.gov as of August 2019.