Date: Wednesday, September 5, 2018
The Bureau of Transportation Statistics (BTS) has submitted Fleet Composition of Rail Tank Cars Carrying Flammable Liquids: 2018 Report, to Congress measuring industry-wide progress in manufacturing and modifying safer rail tank cars that transport flammable liquids.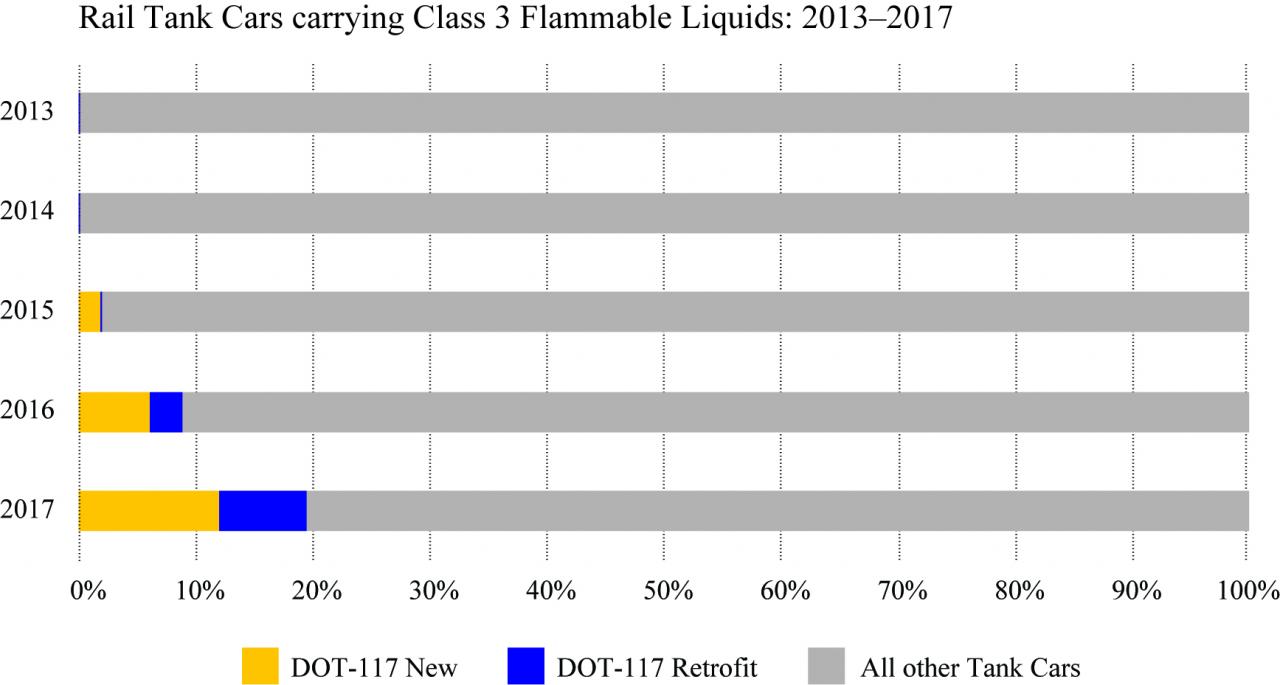 Of the fleet, 20 percent met the new safety requirements for DOT-117 and DOT-117R, a significant increase from the 2 percent in 2015. Of the tank cars meeting the new safety requirements, 61 percent were new and 39 percent had been ret­rofitted.  
The report describes the progress of tank car safety upgrades from 2013 through 2017, by tank car type and type of flammable liquid. Class 3 flammable liquids most commonly include crude oil, ethanol, and refined petroleum products.
In 2017, 77,216 rail tank cars were used to carry Class 3 flammable liquids, the fewest during the five-year 2013-2017 period, down from a high in 2015 of 92,358 tank cars.
Survey results indicate that 11,727 DOT-117 and DOT-117R tank cars are projected to be built or retrofitted in 2018.
The annual BTS report is required under the 2015 FAST Act (Fixing America's Surface Transportation Act), Section 7308. Additionally, Section 7308(c) requires BTS to estimate the antici­pated number of DOT-117 and DOT-117R tank cars for each year from 2018 through 2029 by collecting data from tank car shops that build or retrofit tank cars. The first survey results are included in the report. It is expected that by the end of the transition period, in 2029, all Class 3 flammable liquids will be carried in rail tank cars that meet or exceed the DOT-117 or DOT-117R specification.
Media contact: Dave Smallen, (202) 366-5568, david.smallen@dot.gov.
Updated:
Wednesday, September 5, 2018