BTS Updates Datasets to National Transportation Atlas Database
Friday, July 29, 2022
The U.S. Department of Transportation's Bureau of Transportation Statistics today released its summer 2022 update to the National Transportation Atlas Database (NTAD), a set of nationwide geographic databases of transportation facilities, networks, and associated infrastructure.
The updated layers in this release include:
North American Rail Network Lines;
North American Rail Network Nodes;
Railroad Grade Crossings;
National Transit Map Stops;
National Transit Map Routes;
National Transit Map Agencies;
National Bridge Inventory 2022 data;
National Dam Inventory data;
Alternative Fueling Stations;
Congressional Districts – Updated 117th Congressional Members;
Nonattainment Areas;
National Parks.

The NTAD includes major traffic generators such as National Parks and the connected transportation infrastructure and networks. A good example is Acadia National Park, known as the Crown Jewel of the Atlantic Coast, is one of the ten most visited national parks with four million visitors a year. The park can be reached by car via Interstate 95 and Maine State Route 3. The park can also be reached by a direct flight from Boston's Logan International Airport to Maine's Hancock County-Bar Harbor Airport followed by a ten-mile drive to the park. The park is spread across several islands, which can be accessed by multiple ferry routes including a seasonal ferry route called the CAT, which transports passenger from Yarmouth, Nova Scotia to Bar Harbor. To learn more about the park, please visit https://www.nps.gov/acad/learn/index.htm and for directions to the park https://www.nps.gov/acad/planyourvisit/directions.htm.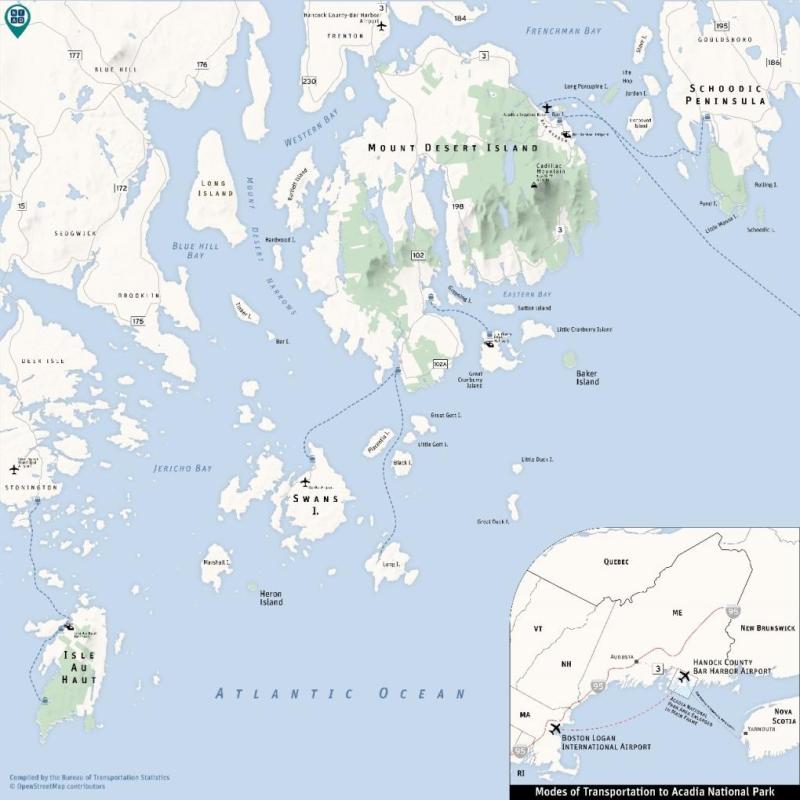 About the National Transportation Atlas Database (NTAD)
NTAD data is available for download in comma separated values (CSV), Keyhole Markup Language (KML), and shapefile formats through the BTS Geospatial Data Catalog. Additionally, Open Geospatial Consortium (OGC) standard Web Feature Services (WFS) and Web Mapping Services (WMS) are available for all NTAD datasets, here and here. Also available are optimized services for fast rendering of full NTAD datasets and vector tile services for 13 of the largest NTAD datasets. These faster services are designated in NTAD by service names ending in "DS" for each layer and "VT" for the vector tiles services.
BTS now uses a dynamic NTAD publication cycle, with updated data released throughout the year as they become available from their respective government agencies. Follow BTS on Twitter, LinkedIn, and Instagram or subscribe to email updates for announcements of additional dataset releases throughout the year. 
Contacts
Media: BTSNews@dot.gov. 
Technical: Dominic Menegus: (202) 366-8717 or ntad@dot.gov.