National Transportation Atlas Database Winter 2021 Update
Friday, January 15, 2021
Friday, January 15, 2021 - The Winter 2021 update to the National Transportation Atlas Database (NTAD) was released today with two new datasets and six updated datasets.
NTAD is a Bureau of Transportation Statistics (BTS) compilation of geospatial datasets representing the nation's transportation infrastructure, containing roadways, railways, waterways, and airports.
The two new datasets in this version are the National Network of more than 200,000 miles of highways and the North American Roads network.
The updates in this release include:
Fatality Analysis Reporting System (FARS) with 2019 values;
Truck Parking;
Alternative Fueling Stations;
National Parks;
Metropolitan Planning Organization (MPO) boundaries;
Congressional Districts with names of members updated through Jan. 8.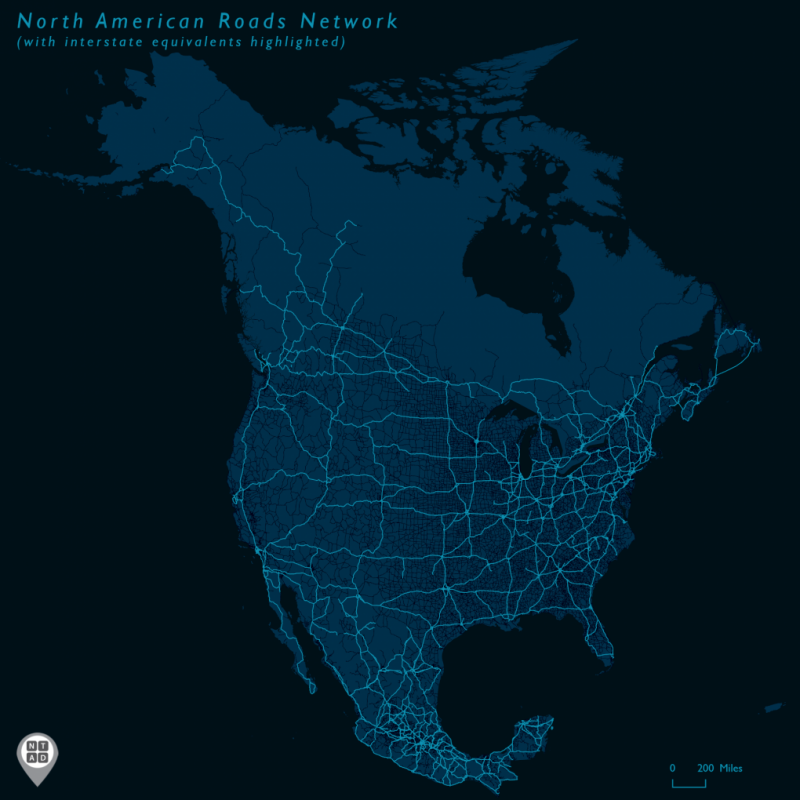 The North American Roads layer contains a network which is a single-line representation of the U.S., Canadian, and Mexican major highway networks. The map above shows the North American Roads layer, with interstate-equivalent roads highlighted. All divided highways are represented as a simplified single-line segment without complex interchanges. This layer is a combination of the Freight Analysis Framework (FAF), created jointly by BTS and the Federal Highway Administration, the National Road Network from Natural Resources Canada, and the Mexican Transportation Institute's Highway Planning network. BTS was the U.S. coordinator, and lead in the North American Transportation Statistics Interchange, for which this layer was created.
NTAD is available for download in comma separated values (CSV), Keyhole Markup Language (KML), and shapefile formats through the BTS Geospatial Data Catalog. Additionally, Open Geospatial Consortium (OGC) standard Web Feature Services (WFS) (including Web Mapping Services (WMS)) are available for all NTAD datasets. Also available are optimized services that allow for fast rendering of full NTAD datasets, and vector tile services for 13 of the largest NTAD datasets. These full NTAD datasets and their respective faster services are designated by service names ending in "DS" for each layer, and the vector tiles service names ending in "VT".
BTS now uses a dynamic NTAD publication cycle, making updated data available throughout the year when they become available from their respective government agencies. Follow @TransportStats on Twitter for announcements of additional dataset releases throughout the year. Contacts:  Press: Dave Smallen: (202) 366-5568. For technical information and questions: Dominic Menegus: (202) 366-8717, or email ntad@dot.gov.