Date: Wednesday, April 22, 2020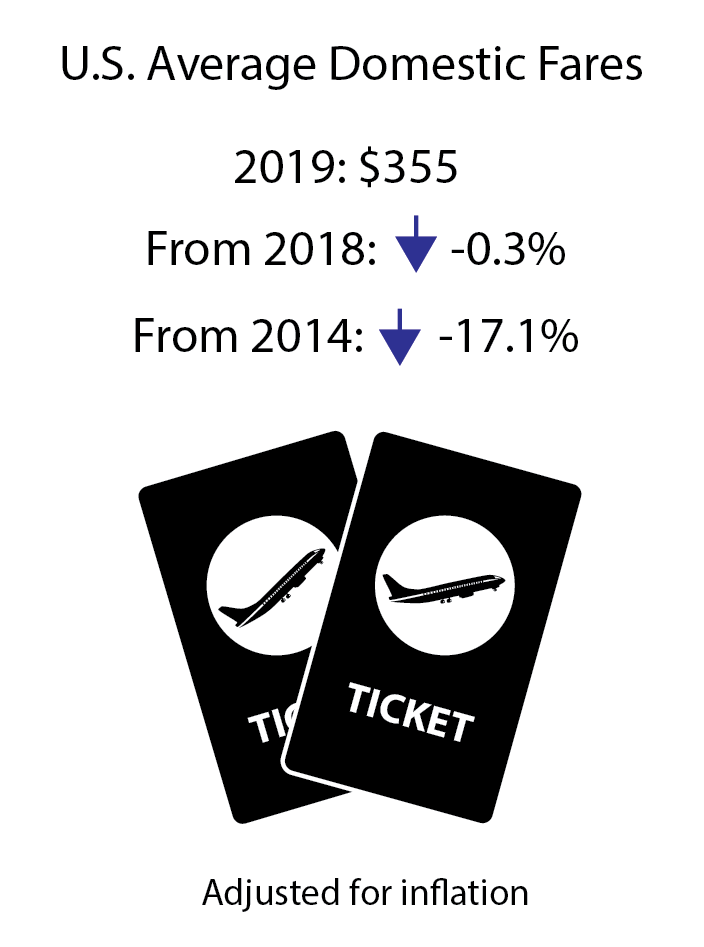 The 2019 average domestic itinerary air fare of $355 was the lowest inflation-adjusted annual fare since the Bureau of Transportation Statistics began collecting such records in 1995, down 0.3% from the previous low of $356 in 2018.
During the year, fares dropped in the third quarter to $346, inflation-adjusted, the lowest quarterly fare on record. In the fourth quarter, fares rose to $357, up 2.1% from the $349 fare in the fourth quarter of 2018.
Annual Air Fares
Inflation-adjusted
Annual 2019 fare ($355):
From Previous Year: Down 1.7% from 2018 ($356)
All Years: Down 29.5% from the highest fare for any year, $503 in 2000
Start of BTS records: Down 27.6% from 1995 ($490)
Recent high: Down 17.1% from 2014 ($428)
Unadjusted
Annual 2019 fare ($355):
From Previous Year: Up 1.5% from 2018 ($350)
All Years: Down 10.5% from the highest fare for any year, $396 in 2014
Start of BTS records: Up 21.4% from 1995 ($292) (compared to 67.9% consumer price increase)
Recent low: Up 14.3% from 2009 ($310)
Updated:
Wednesday, April 22, 2020