Date: Tuesday, October 15, 2019
The second quarter 2019 average domestic itinerary air fare of $364 was an increase from both the first quarter of 2019 and the second quarter of 2018, adjusted for inflation.
Adjusted for inflation, (constant 2019 dollars) the 2Q 2019 air fare was:
Up 2.5% from 2Q 2018 ($355)
Up 1.9% from 1Q 2019 ($358)
Down 14.4% from 2Q 2014 ($426)
The 2Q average fare calculation does not include Frontier Airlines due to data reporting problems. The largest potential impacts would be in cities where Frontier has a substantial market share, such as Denver (12% market share) and Orlando (10% market share).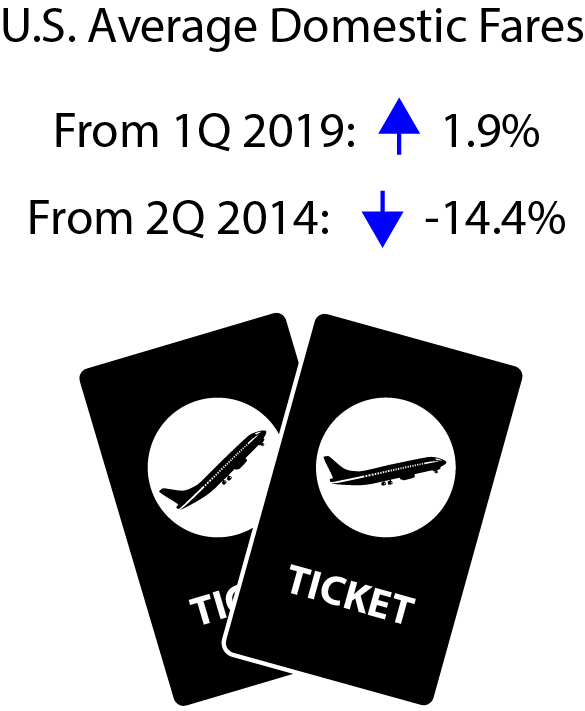 Itinerary Fares: Round-trips, but includes one-way tickets if no return is purchased.
Breakout of trip types: one-way, 40% ($265); round-trip, 60% ($440).
Fare calculations by BTS
Based on a random sample of 10% of the tickets.
Total ticket value: The price charged by airlines at time of ticket purchase.
Included: Additional taxes and fees levied by an outside entity at time of ticket purchase.
Not included: Fees for optional services, such as baggage fees
Updated:
Tuesday, October 15, 2019