Department of Transportation Marks 50th Anniversary of National Transportation Statistics with Data Updates and Special Edition
Thursday, December 16, 2021
The U.S. Department of Transportation's (USDOT) Bureau of Transportation Statistics (BTS) and Volpe National Transportation Systems Center today released the 50th anniversary edition of the National Transportation Statistics (NTS), a collection of transportation data first published in November 1971. The commemorative publication includes links to digitized versions of the entire NTS collection and is the first NTS volume available in print since 2018.
Initially produced in conjunction with the Massachusetts Institute of Technology, the National Transportation Statistics began as a printed annual report. The NTS mantle was taken up in 1973 by the Transportation Systems Center—now the Volpe Center. In 1998, the Bureau of Transportation Statistics took on full responsibilities.
Over its first half-century, the NTS has evolved to include more than 200 time series, updated online whenever new data becomes available. Its tables represent the U.S. transportation system's physical components, safety record, economic performance, energy use, and environmental impact.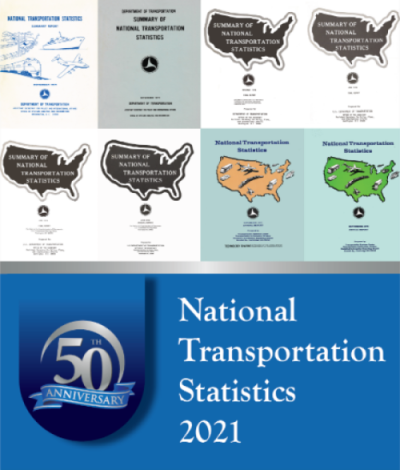 BTS has also published its periodic NTS data updates. Recently updated tables include, by topic:
Physical Extent
Condition
Air Safety
Transportation and the Economy
Transportation and Consumer Expenditures
Transportation Revenues, Employment, and Productivity
Transportation Energy Consumption by Mode
Transportation Energy Intensity and Fuel Efficiency